Pickleball - Tuesdays @ Harpoon Rec League (MIXED) - Harpoon Brewery
| | | |
| --- | --- | --- |
| Type | Close | Cost |
| Super Early | 05/05/23 | $225.00 |
| Early | 05/06/23 | $225.00 |
| Regular | 06/26/23 | $225.00 |
| | | |
| --- | --- | --- |
| Tier | Expires | Price |
| Super Early | 05/05/23 | $225.00 |
| Early | 05/06/23 | $225.00 |
| Regular | 06/26/23 | $225.00 |
| | | |
| --- | --- | --- |
| Tier | Expires | Price |
| Super Early | 05/05/23 | $595.00 |
| Early | 05/06/23 | $595.00 |
| Regular | 06/26/23 | $595.00 |
All matches are played on Tuesdays @ the amazing brand-new professionally built pickleball courts @ Harpoon Brewery in the Seaport District of Boston. Courts are set to be completed by the end of June.

This league is a recreational league that includes all genders of players ranked from 2.0 to 3.5 who just want to have FUN.

Rec League is a great fit if you've played pickleball before and know the scoring system but you're looking to dink rather than smash.

Players looking to move up the ranks and win at all costs should look to register for our Advanced League called the "Juicer League".

All teams receive a $20 Food & Beverage Credit each week (Credit Value = $100 for the season). Credit can not be redeemed for cash, value is per team not per person. Must be redeemed within one week of the distribution date. Only valid at the Pickleball Social Club - cannot be used at the Harpoon Beer Hall or other Harpoon stores.

All teams play four sets (best to 11) per night, matches are scheduled on 20 minute intervals. Play up to four different opponents per night!

HUB Sports reserves the right to add up to four (4) players to all teams comprised of individuals. Sign up as a full team to control your roster.
Self refereed, no ref fees!

Only one rainout will be rescheduled in this league. A second rainout will be issued as a prorated site credit.

FAQ'S [click here] & How to manage your team [click here]
Complete Indoor Pickleball Game Rules [click here]
HUB Sports Boston Refund Policy [click here]
Full teams get 2 Dri-Fit shirts (S-XXL). Additional shirts are $10 each ($15 for XXL). [Tee-Shirt Policy]

All teams qualify for the playoffs - five week season

All league start dates and field locations are subject to change based on the supply and demand of field space and the number of registrations. HUB Sports reserves the right to adjust the league offerings as necessary.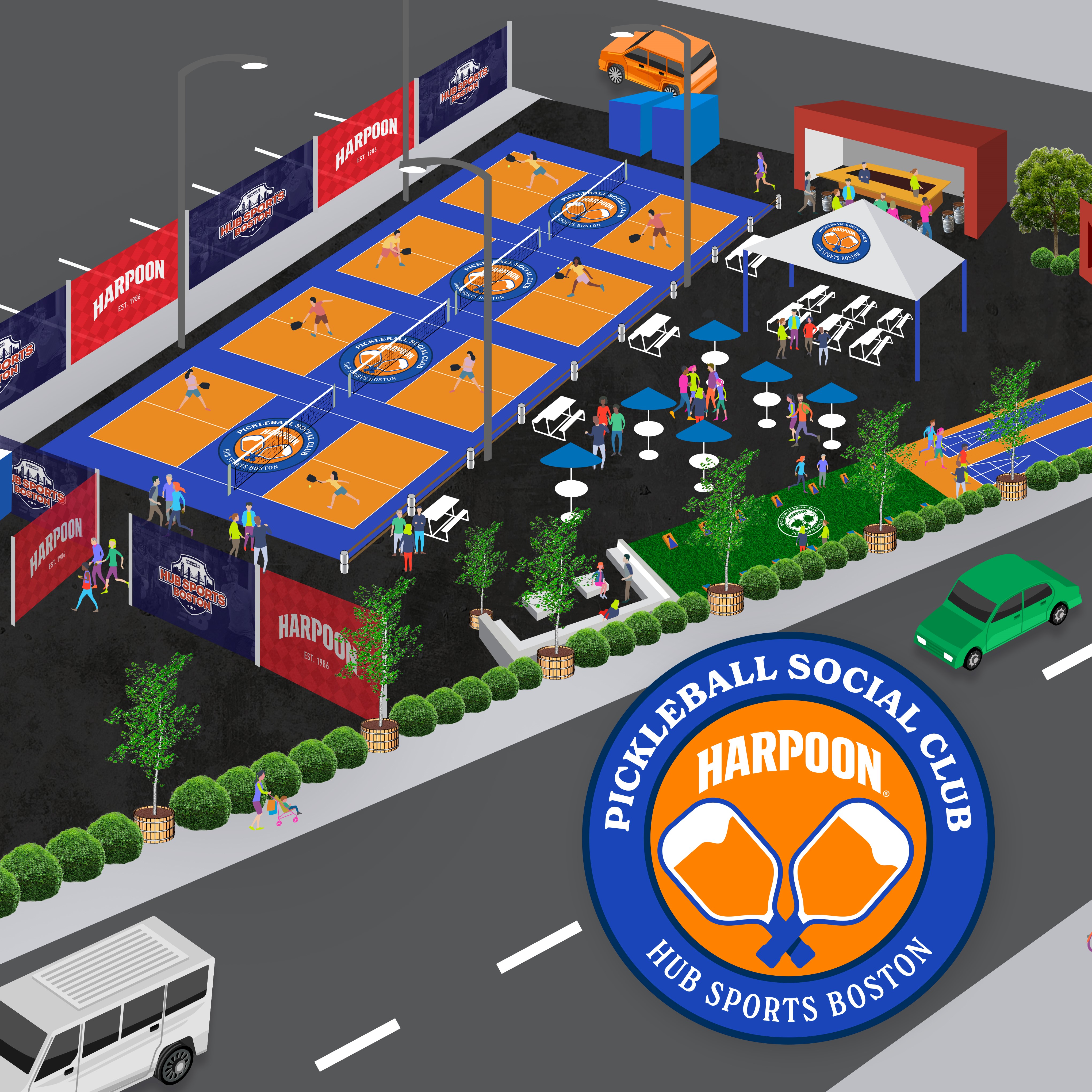 Team Shirts
Game Supplies
Certified Officials
League Prizes
Nearby Parking
---
PLAYER RESOURCES
MANAGING MY TEAM
REFEREE RESOURCES